TRACECA Guide for Border Crossing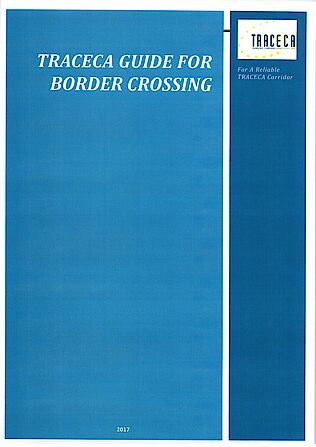 Securing reliable transport networks and strengthening regional economic cooperation are key factors for developing sustainable trans-boundary communication between Eurasian states.
Nevertheless the entry into the territory of a foreign state in a number of sections unfortunately became a complex task for the carriers frequently accompanied by unreasonably overlong expectation at the border which results in additional costs and slowdown in the rates of goods delivery. Unfortunately certain official procedures at the border lead to the increase in the cost of transport operations which impedes the development of international trade and growth of foreign investments.

Precisely these reasons formed the basis for necessity of preparing a thematic guide "TRACECA Guide for Border Crossing".
The purpose of its elaboration is to enlarge the knowledge regarding the instruments which help to realize more effective measures for managing the borders – both in terms of increasing the effectiveness, facilitating trade and improving proper management at the border crossing points.
Beginning the preparation of the Guide we proceeded from the understanding that there is already a certain volume of knowledge and positive experience accumulated in a number of developed countries of the world with respect to streamlining border crossing procedures.
At the same time we hope that this publication will first of all become a reference material for those who are committed to trans-boundary policy in our countries, as well as for the heads of customs and border services. The Guide is also designed for the representatives of transport companies, business circles and the stakeholders on the whole.
We expect this guide to serve further development of intersectoral dialogue and become handy in the improvement of the practice in the field of applying the optimal border regime aimed at promotion of the regional trade.
We are convinced that this manual will contribute to the exchange of experience and advanced practice, as well as make it possible to formulate the solutions promoting more effective border crossing.


The full version of the document is available here:
"TRACECA Guide for Border Crossing"

*This page is to be modified in the nearest future